Event
|
Agenda and supporting documents
|
Practical information
|
Registration
Climate-ADAPT Event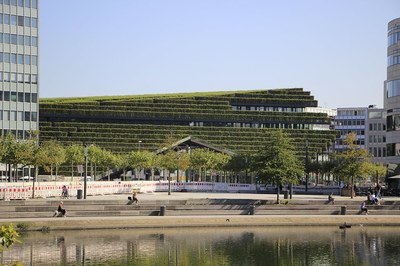 Assisting the implementation of EU Adaptation policies – new developments on Climate-ADAPT
11th Climate-ADAPT Development Webinar
The new EU Adaptation Strategy acknowledges Climate-ADAPT's current role a key reference for knowledge on adaptation and aims to make it the authoritative European platform for adaptation. Achieving this new ambition requires a significant extension of Climate-ADAPT with new data and knowledge components. The 2022-2024 Climate-ADAPT Strategy informs about the objectives and priority actions of the Climate-ADAPT development.
In the first half of 2022, DG Climate Action and the EEA started to implement those priorities such as informing on how the European Commission implements key topics of the EU Adaptation Strategy (Just resilience, Nature-based Solutions, presenting access to climate data, knowledge and solutions for health related climate change impacts). Furthermore, Climate-ADAPT improved access to EU funded research and the the scope of its case studies. A Climate-ADAPT promotion campaign was launched to better engage Climate-ADAPT users and providers in 5 selected countries. For the second half of the year, actions will focus on the translation of Climate-ADAPT into national languages, the set up of the knowledge hub for the EU Mission on adaptation and access to more key knowledge providers at EU levels.
The purpose of the webinar is to present the updates of Climate-ADAPT, implemented in the first half of 2022, and to inform about the actions foreseen in the second half of the year. In interactive sessions, feedback will be gathered on the Climate-ADAPT developments and proposed priorities from the perspective of Climate-ADAPT users and providers.  
The target audience of the webinar are the current and potential new users and providers of Climate-ADAPT. The intended users and providers of Climate-ADAPT consist primarily of governmental decision-makers as well as organisations supporting them in the development, implementation and evaluation of climate change adaptation strategies, plans and actions at EU, transnational, national and sub-national level. Beyond that, there is a wider spectrum of users, including business and non-governmental organisations, researchers, practitioners, and interested citizens.
Agenda and supporting documents
| | |
| --- | --- |
| |   |
| | Welcome |
| |   |
| | |
| | |
| Topic I   | Assisting to implement EU Adaptation policies – new developments on Climate-ADAPT |
|   | Feedback, questions and answers |
|   |   |
| Topic II | New developments on Climate-ADAPT case studies |
|   | Feedback, questions and answers |
| Topic III | Climate-ADAPT in the multilevel governance context of adaptation to climate change in Europe |
| | Feedback, questions and answers |
| | |
|   |  Outlook and conclusions |
|   |   |
Practical information
Participation
The webinar is organized as a an open online meeting meeting. Participation in the webinar is possible via a weblink. The link will be send to you after your registration.
The webinar will be held as an interactive meeting with time for feedback.  As a participant, you will be given a listening and writing permission. The writing permission will be used to submit your questions via the chat function. Cameras and microphones cannot be turned on.
The webinar is being recorded, and the recording will be published on Climate-ADAPT. Please find the privacy policy in the specific privacy statement.
Contact
If you have any further questions you can contact climate.adapt@eea.europa.eu
Language of the conference
English