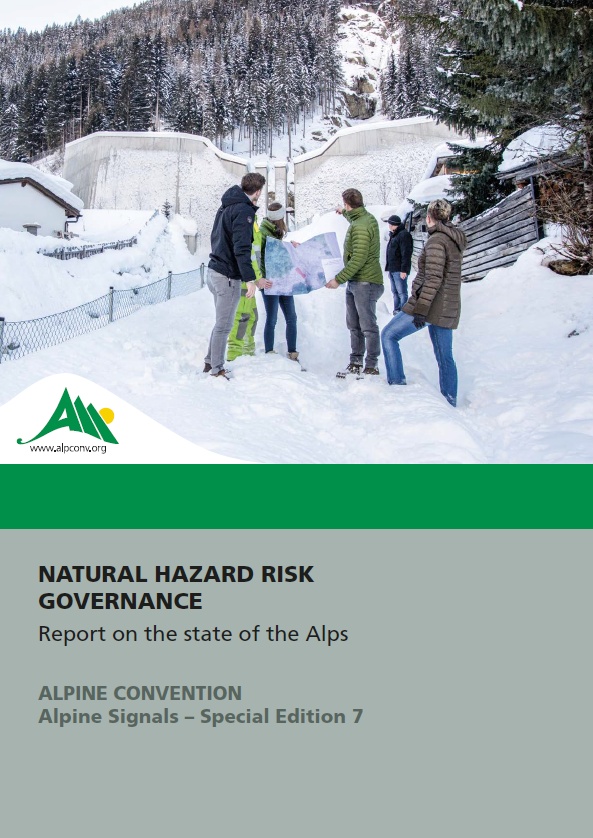 Natural Hazard Risk Governance
Description
To actively contribute to current discussions on the ecological, economic and social development of the Alps, the Alpine Convention periodically publishes a Report on the State of the Alps (RSA). For the 7th report, the Natural Hazards Platform of the Alpine Convention (PLANALP) has prepared a status quo analysis to examine current changes in the way society handles natural hazards, along with recommendations for enhancing risk governance.
Natural hazards are closely linked to climate change. Especially in the Alps, changing hazard areas also create new challenges for effectively handling natural hazard risks. Adaptive behaviours and strategies are essential. Professional risk governance can help to foster mitigation and adaptation on different levels. This is also outlined in several national and transnational strategies on climate change adaptation.
Natural hazards pose an omnipresent constant threat to our living environment and to human life. Alpine areas are particularly prone to a number of hazards, such as river floods, avalanches, rockfalls, debris flows and landslides. With the development of modern democratic states, hazard management as a state responsibility was based on a legal foundation. The various authorities in charge have since then been struggling to ensure and maintain the adequate safety of people, to protect infrastructure and in generally to reduce risks. Natural hazards limit spatial development and need to be considered accordingly. The way hazards are managed is changing. There are changes in institutional capacities, climate conditions and in the involvement of concerned people. Exclusively state-led planning, financing and implementation mechanisms for hazard prevention are gradually being complemented by inclusive processes that involve the public and take natural hazard risk into account.
The report provides an overview on the risk governance concept and its relevance for the Alpine Convention member states. The overview is followed by an analysis of how risk governance is applied to existing management systems. To illustrate different forms of potential governance mechanisms, good practice examples from the entire Alpine Convention perimeter are included in the report. Although risk governance is a general concept, this report exclusively applies it to specific phenomena, i.e. floods, avalanches, torrential hazards, rockfalls and landslides.
The report concludes with the following recommendations for enhancing natural hazard risk governance:
Promote risk governance as a concept to enhance risk management;
use risk governance to develop integrated measures for hazard prevention;
integrate local initiatives in developing solutions for managing natural hazard risks;
provide financial and other incentives to include and consider participatory approaches in various steps of developing protection and prevention systems;
apply risk governance in a practical and professional way.
Available in English, German, French, Italian and Slovenian languages.
Reference information
Websites:
Contributor:
Alpine Convention
Published in Climate-ADAPT Aug 06 2021   -   Last Modified in Climate-ADAPT Sep 10 2022