EU Adaptation Strategy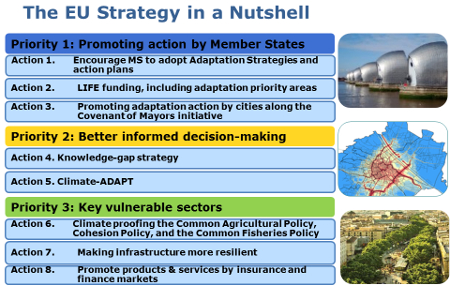 The EU strategy on adaptation to climate change aims at making Europe more climate-resilient. Taking a coherent approach by complementing the activities of Member States, it supports action by promoting greater coordination and information-sharing and by ensuring that adaptation considerations are addressed in all relevant EU policies.
Guidance and suggestions to support Member States and other stakeholders developing adaptation strategies, using European funds, or integrating adaptation considerations into projects.
Assessment of climate change impacts and adaptation frameworks in key sectors and areas (e.g. coastal and marine, health, infrastructure, rural development, etc.
a Green paper on the insurance of natural and man-made disasters, addressing the suitability of the insurance conditions in Europe due to the higher occurrence of extreme events.  
Implementing the strategy
Implementing the Strategy to improve the EU's preparedness for current and future climate impacts encompasses several actions organised around the 3 priorities:
Priority I: Promoting action by MS

 Priority 2: Better informed  decision making

Priority 3: Key vulnerable sectors

The Commission has provided guidelines to help Member States formulate adaptation strategies
The Commission is developing an adaptation preparedness scoreboard for measuring Member States' level of readiness.
Mayors Adapt: adaptation in the Covenant of Mayors