Identifying adaptation options
3.2 What case studies are available?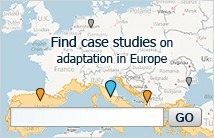 The 15 most popular case studies recommended by users of CLIMATE-ADAPT are listed below. You can make the list of cases more specific by selecting a specific climate impact and / or adaptation sector of interest.
To explore case studies in areas similar to a location of choice, please use the 'Similar Areas Tool'.
To look up impact and sector specific case studies please use the dropdown boxes below.