0
The Adaptation Support Tool – Getting started
Climate impacts in Europe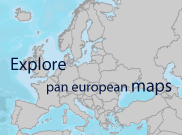 The extent to which the climate will change depends on the development of society and the economy in coming years. These changes are captured in different climate and socio-economic scenarios. Socio-economic scenarios provide plausible descriptions of possible future states of the world, based on the choices that society makes. Global climate models provide projections of future climate change at the global scale and use greenhouse gas emissions scenarios associated with these various socio-economic scenarios. These projections can be used to calculate more detailed climate projections for Europe and countries.
In order to derive climate impacts and climate risk maps, data on climate observation and climate change scenarios are provided through e.g. the Copernicus Climate Change Service C3S. The Climate Data Store (CDS) is designed to enable users to tailor services to more specific public or commercial needs. The European Climate Data Explorer is a graphical user interface that provides inteactive access to many climate indices from the Climate Datat Store of the C3S. Furthermore, C3S offers annual climate reports, climate bulletins as well as pilot studies on climate impact assessment for selected sector through its Sectoral Information System (SIS).
Detailed information on climate change and its impacts on Europe are provided in the EEA Report 2016. This report contains text and maps on how the climate is changing and how it is affecting specific systems and sectors (such as agriculture or health) in Europe.
Different maps present how Europe might be affected by climate risks such as heatwaves, floods, drought, forest fires and sea-level rise during this century. These maps are based on different socio-economic scenarios and different climate models (e.g. Maps of Climate change impacts in Europe). Adaptation activities cannot and do not replace climate change mitigation efforts, but for a sustainable development of our society, both climate change mitigation and adaptation activities are necessary.